Things to Do in Calgary
Explore All the Local Attractions Around Us
Discover what Calgary has to offer while you stay at the Best Western Premier Calgary Plaza Hotel & Conference Centre. Our full service hotel is located in an ideal location near the downtown Calgary City Centre, offering convenient access to popular things to do, attractions, landmarks and shopping centres.
Please check out the following things to do in and around the downtown Calgary City Centre:
Best Western Premier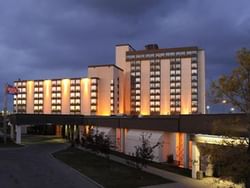 TELUS Spark Science Centre
Distance: 5 kilometres from hotel
With five unique galleries and the Brainasium outdoor park, this fascinating hands-on science centre makes learning fun for visitors of all ages.
Calgary Zoo
Distance: 5.9 kilometres from hotel
Get up close and personal with more than 1,000 exotic animals from around the globe. Attractions include Artic and African habitats, a butterfly garden and the Prehistoric Park.
Fort Calgary
Distance: 8.0 kilometres from hotel
This park tells the story of the Northwest Mounted Police, the building of Fort Calgary and the development of Calgary as a city.
Glenbow Museum
Distance: 8.1 kilometres from hotel
One of Canada's biggest museums, Glenbow houses nearly 30,000 works of art and well over a million historic artefacts.
Calgary Tower
Distance: 8.3 kilometres from hotel
Enjoy stunning views of Calgary and the Rocky Mountains beyond from the 191-meter observation deck. You'll also find plenty of great dining and entertainment.
Canada Olympic Park
Distance: 18.9 kilometres from hotel
Explore the site of the 1988 Olympic Games. In addition to several competition venues, there's skiing and snowboarding, bobsledding, summer camps, mountain biking, hockey and zip line rides.
Heritage Park
Distance: 19.1 kilometres from hotel
Travel back in time to Western Canada's frontier days with steam train rides and a living village complete with historical re-enactments.
Calaway Park - Summer Months Only
Distance: 29 kilometres from hotel
Boasting over 32 exhilarating rides and dozens of attractions, games, entertainment and food venues, Canada's largest outdoor family amusement park offers a fun-filled day for the whole family.
Spruce Meadows
Distance: 30 kilometres from hotel
Spruce Meadows is more than just a horse farm and training facility. In addition to touring the stables and watching trainers work out world-class horses, visitors can enjoy show jumping competitions, picnics in the field and fishing the pond.
Banff National Park
Distance: 60 minutes from hotel
Canada's first and oldest national park features stunning mountain landscapes and waterways perfect for hiking, biking, camping, fishing, canoeing, bird watching as well as snowshoeing, cross-country skiing, rock climbing, and more.
Local Dining
While you are in Calgary, come enjoy some favorite restaurants including Cactus Club Café, Browns Socialhouse, Olive Garden, The Old Spaghetti Factory and Red Lobster - all located minutes from the Hotel.